How To Make Gorgeous Hand-Painted Candles at Home
Try your hand at S/media's favourite interiors trend: hand-painting gorgeous colorful candles to brighten up your homeware game. Hand-painted candles with floral, fruity, and abstract motifs are being created by a slew of candle makers, taking the trend even further. It's actually quite simple to paint candles yourself. Why not get creative this bank holiday weekend and take your candle game to the next level, whether you've manufactured your own tapered candle or have some spares laying around the home from a lockdown-induced online shopping spree?
What You'll Need:
Rubbing alcohol or surgical spirit
Lint-free cloth
Paint brushes or sponges depending on the texture you're after
Acrylic paint
Paper stencils (optional)
How To Paint Candles:
To begin, clean your candle with rubbing alcohol or surgical spirit and a lint-free cloth. This will take away the gleam and make the surface more absorbent.
Using acrylic paint and a paintbrush or a sponge, paint your design directly onto the candle. You can use paper stencils or draw your designs freehand.
Allow the first coat to dry completely before applying the second. The number of coats you'll need is determined by the colour of paint you're using and the design you've created. In most cases, two is sufficient.
Allow for a few hours of drying time.
When the candles are finished, handle them with caution because the paint can chip or damage if not properly cared for and kept.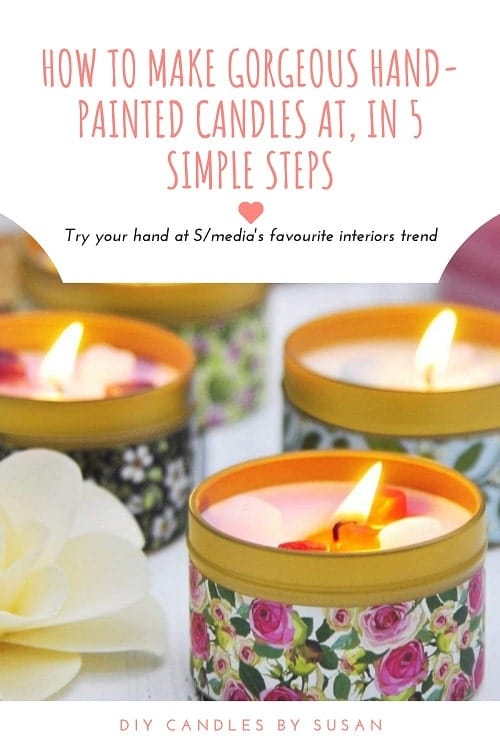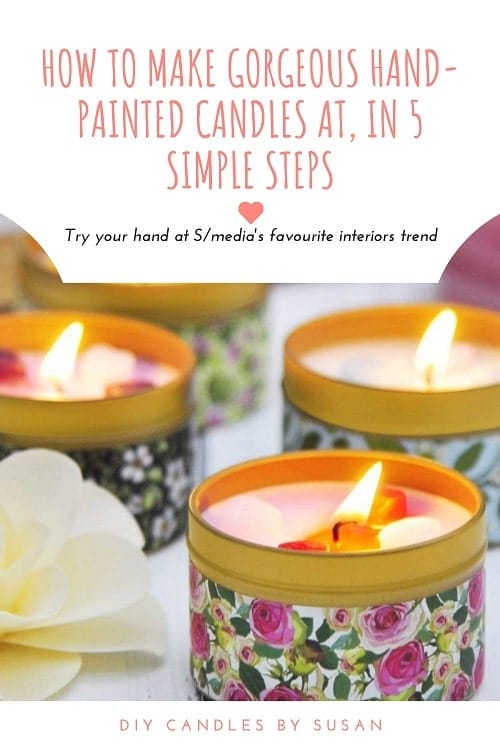 More Tips for Safely Making Beautiful Painted Candles
Experiment and don't be a perfectionist.
"As long as you've prepped the candle, the paint should go on without any problems," Otter says. "It's definitely trickier to paint on a curved surface but use the candle shape to your advantage and don't worry about it being perfect to begin with. Just start experimenting with different designs and techniques and see what works for you!"
Pick your colours wisely.
Otter enjoys purchasing candles in a single block colour and painting contrasting colours on them. It gives the candles a striking appearance and helps the designs stand out. "Pink and red is a strong contender," she says when asked about her favourite colour combinations. She also enjoys mixing different shades of the same colour, such as green on green.
Use the wax that works for you.
"My candles are made from paraffin wax which works best for me," Otter says. "But I think it's about experimenting and finding what works for your design." You can use any wax, but you might find that different kinds of wax work better with different paints. It's best to experiment to find what works for you. Credits to Stylist
Prioritise safety if you burn your candles.
If you use water-based, non-toxic acrylic paint, your candles will be safe to burn after a few hours of drying. "The amount of paint used can also affect the burn time, so I'd avoid covering the whole candle in paint and stick to smaller designs," she says. "Like with any candle, you should keep an eye on them when lit and make sure they're never left unattended."
"Some would argue they're too pretty to burn," she adds, explaining they can be used simply as a homeware accessory if you'd prefer.
Don't have any tapered candles on hand? Not a problem! You can make your own using The Curiosity Academy's beginner-friendly candle-making tutorial. Plain pillar and dinner candles can also be purchased directly from our Candles Online Shop.
Otter founded By Otter during lockdown in 2020 and she has since become known for her signature pastel abstract and fruity designs.